slip me some tongue please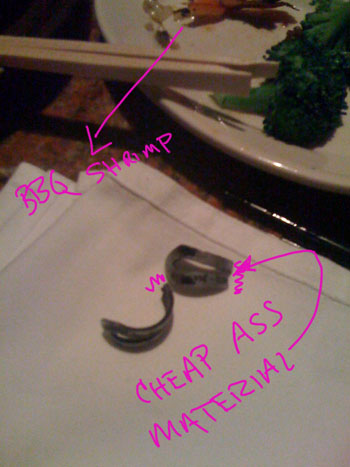 i was at dinner with some of my new found japanese friends on sat night and i got to try some tongue. yup, tongue – and it tasted great. the tonguing happened at woo lae oak in bev hills. it was really a nice dinner…nouveau korean is how they describe their cuisine. i guess our dinner was pretty classical by korean standards and not so much of the nouveau. lot's of meat slapped on a bbq – washed down with beer and sake, just how kbbq should be. yum yum yum.
on the unfortunate side of things…my ring (and the only ring i wear) from all saints snapped in half. really? seriously? i was bummed, i dont wear much jewelry as it is and this ring was one i was particularly fond of. how does a ring snap in half so easily? all saints – what the fuck – where's your quality control. anyway, totally bummed on them right now.